watchOS 3 Tidbits: Face Gallery, Disable Screenshots, New Stock Apps, and More
Apple this week previewed watchOS 3, the next major version of its Apple Watch software platform. The first beta has been seeded to registered developers, allowing for early adopters to take a closer look at what's new in the update.
Many tidbits in the new watchOS have already been discovered that were not given much or any stage time during Apple's WWDC 2016 keynote, including improvements to the Apple Watch companion app on iPhone, new first-party apps and watch faces, minor user interface tweaks, and more.
Face Gallery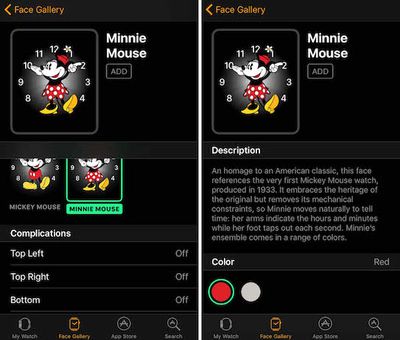 A new Face Gallery section has been added to the companion Watch app on iPhone, allowing users to browse and switch between watch faces, customize the color scheme, and configure complications.
X-Large Watch Face


Apple has added a new X-Large watch face with one large complication positioned at the center of the screen.
Screenshots Toggle


Apple Watch screenshots can now be enabled or disabled using the companion Watch app on iPhone. The toggle switch is in the General menu.
New Modular Complications


Apple Watch Now Appears in Find My iPhone


Other Tidbits
• More watch faces support complications
• New stock apps: Breathe, Home, Find My Friends, Reminders, and Heart Rate
• Delete most first-party apps by first deleting the app on iPhone
• Tap on the Mickey/Minnie Mouse watch faces and they will read the time in their voices
• Enable auto pausing of indoor and outdoor runs
• Dismissing a notification now returns you to watch face rather than Notification Center
• The new Activity watch face is available in both analog and digital formats
• Siri has a slightly tweaked user interface
• Activity and Workout apps have been redesigned
• Friends view has been removed in favor of the new Dock feature
Share your own tidbits in our Apple Watch: All The Little Things discussion thread.
watchOS 3 will be available as a free software update for all Apple Watch users this fall.