Apple Confirms Rich Notifications Will Come to Devices Without 3D Touch
Despite only showcasing iOS 10's new rich notifications feature on an iPhone 6s and iPhone 6s Plus during WWDC, Apple has confirmed in beta notes that devices without the pressure sensing technology of the newest iPhone models will also be getting rich notifications. Still, the feature is relegated -- and "optimized" -- for the 6s and 6s Plus in the first iOS 10 beta, with full functionality coming to older-model iPhones in the future.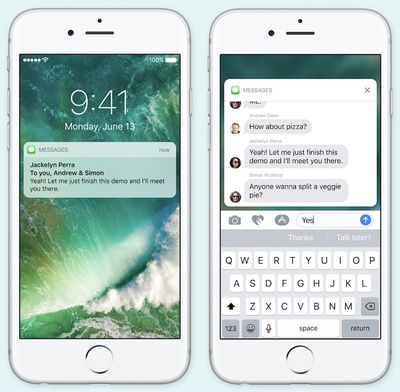 "Support for rich notifications is optimized for 3D Touch, and in iOS 10 beta 1 the feature is available only on iPhone 6s and iPhone 6s Plus. Future betas will provide access to this functionality for users of iPhone models without support for 3D Touch."
Rich notifications function as a way for users to pop into apps without needing to navigate through unlocking the iPhone and finding the app on their home screen. On the iPhone 6s and 6s Plus, a simple 3D Touch can expand a Message with a full keyboard to type out a reply, or show a live broadcast of a sporting event. With no more descriptive information in the Apple beta notes for developers, it's unclear how this feature will work on iPhone models lacking 3D Touch, although some form of long press is likely.
Similar iOS 10 tidbits have been emerging from WWDC following yesterday's keynote, including new information on iMessage Apps and the potential removal of Game Center from the public release of iOS 10 this fall.