Google Debuts 'Motion Stills' App for Creating GIFs and Movies from Live Photos
Google today announced the launch of a new app called Motion Stills, which is designed to create unique GIFs from Live Photo images captured with the iPhone 6s, iPhone 6s Plus, and iPhone SE.
According to Google, the app was built by the Google Research Team and uses the company's video stabilization technology to freeze the background into a still photo or create cinematic panoramas. Multiple clips can also be combined into a montage.
GIFs created by Motion Stills can be shared via apps like Messages or on social media networks.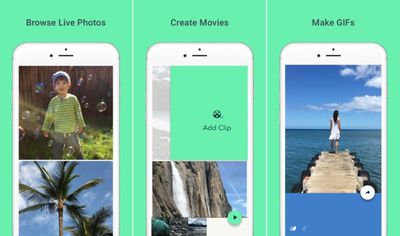 We pioneered this technology by stabilizing hundreds of millions of videos and creating GIF animations from photo bursts. Our algorithm uses linear programming to compute a virtual camera path that is optimized to recast videos and bursts as if they were filmed using stabilization equipment, yielding a still background or creating cinematic pans to remove shakiness. [...]

Short videos are perfect for creating loops, so we added loop optimization to bring out the best in your captures. Our approach identifies optimal start and end points, and also discards blurry frames. As an added benefit, this fixes "pocket shots" (footage of the phone being put back into the pocket).
There are several other apps designed to create GIFs for Live Photos, so Google's offering isn't unique, but it is notable that Google is offering an iOS-only app that works with an iOS-only feature. Google says the information it learns from Motion Stills will perhaps be used to introduce new capabilities into Google Photos in the future.
Aside from making Live Photos viewable on iOS and Mac devices running the latest operating systems and implementing an API for developers to incorporate Live Photos viewing into their apps, Apple has not designed any tools that allow users to manipulate and edit their Live Photos or convert them into videos or GIFs.
Google's new Motion Stills app is available now and can be downloaded from the App Store for free. [Direct Link]