Developer Excitement for Apple TV Easily Exceeds Interest in watchOS
Developer interest in coding third-party apps for Apple TV continues to surge, while interest in the Apple Watch has waned since the start of 2016, according to mobile app developer database Realm.
Realm hosts a database of apps used by approximately 100,000 developers, and contains details of apps used by around 1 billion people, giving it a unique view of which devices capture mobile developers' interest over time.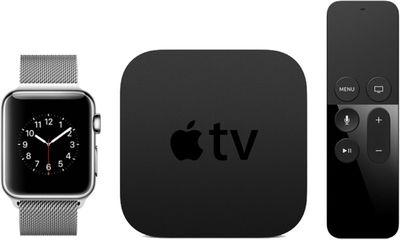 Speaking to Business Insider UK, Realm VP Tim Anglade said that the Apple TV had gained the most interest among developers since the release of the fourth-generation device and the launch of a dedicated App Store in October 2015. Meanwhile, developers have cooled their interest in the Apple Watch, viewing it more as a companion to the iPhone, where coding appeal remains high.
"tvOS is a brand new platform so there's a gold rush for it," said Anglade. "[But] on a weekly basis we're seeing very few Watch apps, compared to iOS apps. For every 1,000 new iOS apps being built, there are 10 tvOS apps and maybe 1 Watch app."
Apple doesn't release separate sales figures for the Apple Watch, but market research suggests the device finished third in the overall wearables market in the first months of 2016, with 7.5 percent market share. Since the launch of the fourth-generation Apple TV, sales of the set-top box have been 50 percent higher than unit sales in 2014.
According to Anglade, there's every chance that coders will flock to the next version of the Apple Watch – expected to be unveiled late this year – in the way they did when the device was first launched, so long as the timepiece offers more opportunities for developers to tap into upgrades and Apple opens up the platform to run independent apps.
Developers originally had limited access to Apple Watch features using WatchOS 1, and were unable to access the gyroscope, accelerometer, NFC, built-in speaker and microphone, and the Taptic Engine of the device. That all changed with the launch of watchOS 2 in September, and as of June 2016, all Apple Watch apps must run natively, rather than rely on the iPhone.
Apple is said to be continuing its work on various health-related sensors that did not make it into the original Apple Watch due to performance problems and inconsistent results. These sensors may be incorporated into the second-generation device following further refinement, although details remain sketchy.
"Apple published a road map, to be able run independent apps, and that's a big deal," added Anglade. Apple is expected to demo the next version of watchOS at its Worldwide Developers Conference in June. Until then, coders seem satisfied to invest the majority of their time and energy on developing for Apple's other platforms.