Apple TV Sees Major Sales Growth in 2015 But Still Ranks as Fourth Most Popular Streaming Media Player
The launch of the fourth-generation Apple TV, with Siri integration and a full App Store, resulted in a huge Apple TV sales boost, according to new data shared by Parks Associates. In 2015, Apple TV unit sales were 50 percent higher than unit sales in 2014.
Despite the surge in sales, the Apple TV continues to rank as the fourth most popular streaming media player in the United States, coming in behind Roku, Amazon, and Google. The Apple TV accounted for 20 percent of streaming media players purchased from 1Q 2015 to 1Q 2016, compared to 30 percent for Roku and 22 percent each for Amazon and Google.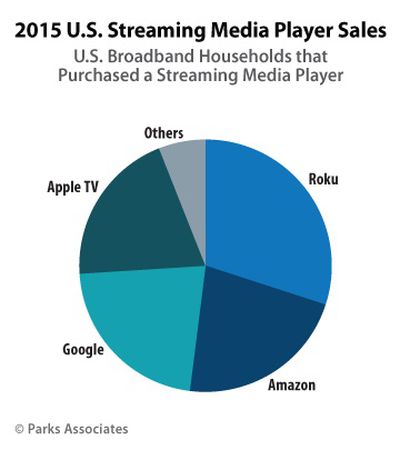 While Apple TV remains in fourth place among the four major brands, it had the largest increase in unit sales year-over-year, primarily due to its long-awaited new version, launched in 4Q 2015. Its share of sales in 2015 was 50% higher than its share in 2014. Amazon also had a substantially higher share of unit sales in 2015.
Parks Associates believes Apple trails behind because both Amazon and Roku offer multiple form factors with both standard boxes and smaller sticks available. Amazon, Roku, and Google also offer more affordably priced streaming media players than Apple, with its latest box starting at $149. Apple does, however, continue to sell its third-generation Apple TV for $69, more competitively priced with competing set-top boxes.
In total, 36 percent of U.S. broadband households now have at least one streaming media player, up from 27 percent last year, and media players from Amazon, Roku, Apple, and Google make up 94 percent of those. Media player sales are expected to grow significantly over the next few years, with an estimated 86 million streaming media players set to be sold globally in 2019.
Since Apple just released its latest Apple TV set-top box in October of 2015, there's no word on when another update is planned. Apple has recently been working on building out the tvOS software included on the fourth-generation Apple TV, introducing much-needed new features like dictation, app folders, and Bluetooth keyboard support.