Popular image editing app Pixelmator was today updated to version 3.5, adding two impressive new tools to improve selections and a new Pixelmator Retouch extension for the Photos app.
Pixelmator's new Quick Selection Tool, which is smarter than the existing tool, makes it much easier to select large areas of an image with a single brushstroke. The tool is designed to analyze color, texture, contrast, shadows, and highlights in an image to automatically detect an object that's being selected.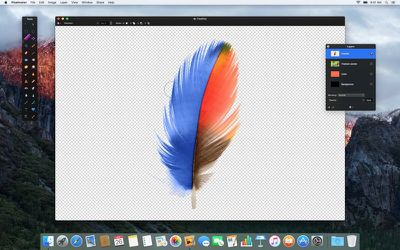 "With the Quick Selection Tool, we wanted to create a totally unique experience for selecting objects," said Simonas Bastys, lead developer of the Pixelmator Team. "For more than 6 months, our team worked on developing a unique and incredibly smart algorithm, which used advanced machine-learning techniques to figure out for itself the best possible way to select objects. The results are stunning, and we're really happy to introduce this next-generation selection tool to all of our users."
Alongside the Quick Selection Tool, a new Magnetic Selection Tool is designed to automatically snap to the edges of an object being traced, so a detailed selection can be made much more quickly. According to Pixelmator's developers, the algorithm behind Magnetic Selection is based on A* Pathfinding and ensures a perfect outline around nearly any object.


For the built-in Photos app on the Mac, there's a Pixelmator Retouch extension that adds a number of retouching tools that can be used directly in Photos. With the extension, it's possible to remove objects, clone areas, adjust lightness and saturation, sharpen details, and more. Pixelmator Retouch was built to take advantage of Metal, Apple's graphics processing technology, so edits can be done speedily.


Other improvements in the new Pixelmator update include a new Stroke effect that's 15 times faster, improved Refine Selection performance, auto-adjusting brush size for the Distort extension, and content-aware outline smoothing for selections made via Color Selection, Paint Bucket, and Magic Eraser. A long list of bug fixes is also bundled into the release.
Pixelmator for Mac can be downloaded from the Mac App Store for $29.99, and today's update is free for existing users. [Direct Link]