2016 MacBook Pro May Include OLED Display Touch Bar and Touch ID
Apple plans to introduce a revamped high-end MacBook Pro this year that'll include a thinner and lighter form factor, Touch ID and a new OLED display touch bar above the keyboard, according to a new report from KGI Securities analyst Ming-Chi Kuo. The new MacBook Pro would come in 13- and 15-inch variations and arrive in the fourth quarter of 2016.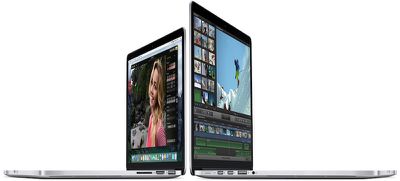 While long overlooked, the MacBook line is the brightest spot for Apple's 2016 rollouts. This is particularly true of the two new MacBook Pro models, to be introduced in 4Q16, as they will have a thinner and lighter form factor, Touch ID, use OLED display touch bar (to replace physical function keys, located above the keyboard) and adopt USB- C / Thunderbolt 3.
Kuo calls the new MacBook Pro updates the "most significant upgrade ever undertaken by Apple." The new "thin and light" design will be helped by new metal injection mold-made hinges and the butterfly-mechanism keyboards that debuted in the 12-inch MacBook. There has been speculation Apple would introduce Touch ID to MacBooks and, in the meantime, Apple engineers are working on a way users could unlock their Macs with Touch ID on iPhone.
The 12-inch MacBook will also be joined by a 13-inch MacBook, according to Kuo. The analyst believes that Apple will move forward with all three MacBook lines this year, with the MacBook Pro occupying the high-end slot, the MacBook will replace the Air as the medium-level model and the MacBook Air will serve as an entry-level model with comparatively low prices.
In April, it was reported that the new MacBook Pros would see slimmer designs and new hinges. Additionally, speculation indicated the new MacBook Pros could adopt Thunderbolt 3 with USB-C. Today's report confirms both rumors. Apple's refreshed MacBook Pros are also expected to sport faster Skylake processors, with the top-of-the-line MacBook Pros also sporting AMD's new 400-series Polaris graphics chips.