Apple Hires Pair of Engineers From Wireless Charging Startup uBeam
As rumors swirl around Apple's potential integration of wireless charging in future iPhone models, The Verge discovered the company has recently hired a pair of engineers with specialties focused in wireless charging and ultrasonic technology. Those two hires came in the past four months, but they are part of a larger group of more than a dozen wireless charging hires over the past two years.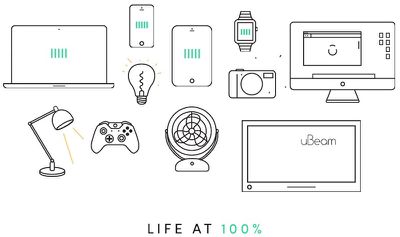 The two latest hires, Jonathan Bolus and Andrew Joyce, come from startup uBeam, which is working on a wireless charging technique centered around the harnessing of ultrasonic waves that are converted into electricity to charge an electronic device. Questions about the viability of uBeam's technology have been around for a while, and former VP of Engineering at uBeam, Paul Reynolds, has been highlighting the company's errors and potential for failure on his personal blog. The most recent post centers around the mishandled and controversial PR battle faced by blood test startup Theranos, and the suggested implications similarly affecting uBeam.
Last week a former engineer from the much hyped wireless charging startup uBeam left some scathing criticism of the company on his blog. He compared uBeam to the now disgraced startup Theranos, saying that uBeam has avoided any full-fledged public demonstrations because its technology doesn't work as advertised. While it can do some very limited charging over a short distance, he allowed, the basic laws of physics prevent the product from being practical at any commercial level.
Given the ongoing controversy over the viability of uBeam's proposed technology, it is perhaps unsurprising some of its engineers are looking at other job opportunities, and Apple's interest in wireless charging makes the company a natural fit.
Apple has filed various patents relating to wireless charging in the past, but remains quiet on its implementation in a future iPhone. Apple executives have downplayed the significance and usefulness of wireless charging before, mainly due to the necessity of users needing some kind of mat to lay the iPhone on, which would still need to be plugged into a wall.
A possible solution for that problem came from a Bloomberg report earlier in the year, which said Apple was pursuing an extended range wireless charging technique that would negate the need of a separate charging mat and fuel up an iPhone from across a room with no extraneous accessories required. Apple never commented on the report, but speculation suggested Apple could be working with Energous Corporation on the technology.
uBeam's promise for wireless charging is similar to Apple's alleged goal of a free range, totally wireless charging ability for iPhone devices, so the two new hires could be helping the company introduce such a feature into a new model down the line. Reports early in the year pointed to the introduction of wireless charging in this year's iPhone 7, but it's largely expected now for the feature to be held off until 2017 or even later.