Norway-based company Opera Software today announced the addition of a new power saving mode to its Opera web browser, which is designed to extend battery life when the browser is used on a notebook computer like Apple's line of MacBooks.
According to Opera, the new power saving mode, which is available today in the developer stream, can extend laptop battery life by up to 50% compared to earlier versions of the Opera browser and to Google Chrome, giving heavy web users up to three hours of additional battery life. Opera's testing was done on a Lenovo X250 with a Core i7-5600U processor and 16GB RAM running Windows 10, so it is unclear how much battery savings Mac users will see.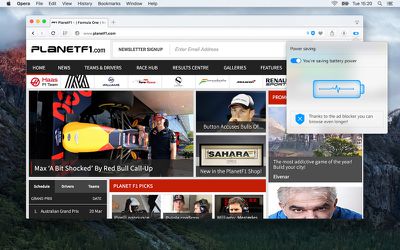 The feature works through various optimizations like reducing activity from background tabs, adjusting page-redrawing frequency, and tuning video playback options.
"It's extremely frustrating to run out of battery on your computer, whether you are out traveling, watching videos, or you have just left your charger behind. Our new power saving mode will nudge you when the laptop starts to consume battery, and, when enabled, it can increase the battery life by up to three hours," says Krystian Kolondra, SVP of Engineering for Opera.
The power saving mode can be accessed whenever a laptop is using battery power by clicking on the battery icon located next to the address field in the browser. It is also able to detect when a laptop battery is running low, offering up an option to enable the mode. Today's developer update also includes optimized animated themes and better memory management techniques to improve performance.
The introduction of the power saving mode comes just a few weeks after Opera added a built-in virtual private network (VPN) feature to its web browser. The developer version of the Opera browser with the built-in power saving mode can be downloaded from the Opera website.