Former Apple CEO John Sculley went on camera yesterday to give his thoughts on Apple's current product lineup and offered a couple of interesting tidbits on where he thought the Apple Watch could be improved.
In an interview with The Street, Sculley said he still loved Apple products and used his iPhone, iPad and MacBook daily, but that he'd so far passed on owning the company's smartwatch offering. "I think the Apple Watch is beautiful, but it doesn't have enough utility to be something that I feel I have to have at this point in time," he said.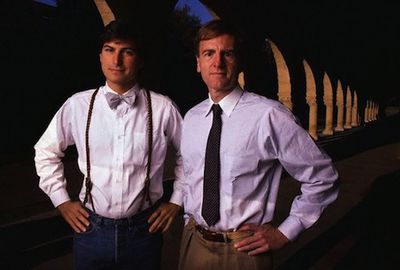 Steve Jobs (left) and John Sculley (right) in 1984.
Asked what Apple would need to change to make it a worthwhile purchase for him, Sculley said that first the company needed to de-connect the hardware from the dependency it has on the iPhone. "When you go jogging, I don't want to carry my iPhone and Apple Watch to count the steps – Apple will solve this though, they are good at that kind of stuff."
Secondly, Sculley said Apple needed to take advantage of the "incredible excitement" over smart messaging which he called the "next big thing". "Whether it's WeChat or Facebook M, we are starting to see a move to an era where messaging could be an intelligent assistant, and that could be a perfect application for the Apple Watch if they can incorporate it."
"I don't think an Apple lover has to have every product, but the ones I have and use I love," continued Sculley, expressing a particular fondness for the iPad Pro. "I think it's a spectacular experience to read the newspaper on it every day and even read books, I much prefer it to a Kindle."
Sculley was vice-president and president of Pepsi-Cola before he served as Apple's CEO from 1983 to 1993, where he is famous for forcing out Steve Jobs from the company, something he has since
called "a mistake"
. In 1987 he was named Silicon Valley's top-paid executive, with an annual salary of $2.2 million. When he left Apple, the company had $2 billion in cash and $200 million in debt.
He is widely considered an expert at marketing, and continues to speak and write about disruptive marketing strategies. He also has investments in a number of high-tech start-up companies, including Zeta Interactive and WorldMate. Jeff Daniels portrayed Sculley in the recent movie Steve Jobs.