Apple Music Connect to Be Removed From Music App Tab Bar in iOS 10
Earlier this week rumors suggested that an Apple Music overhaul is being prepared for a worldwide reveal at WWDC this June, with a launch in the fall within iOS 10. New details shared today by 9to5Mac indicate that one of the streaming music service's least-used features -- the social network-like section called Connect -- will be "demoted" in the overhaul and removed from the app's tab bar completely.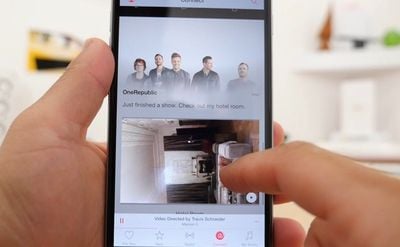 Although some users have gone through the process of removing Connect already, allowing them a dedicated Playlist tab in its place, iOS 10 will see Apple moving Connect permanently from the bottom tab and into an integrated section of the "For You" page of Apple Music. Because of this, Connect "is unlikely to see notable new features this year," suggesting this section of Apple Music hasn't lived up to the company's plans laid out at WWDC last year.
Overall, the new version of Apple Music is said to focus on black and white backgrounds along with an emphasis on individual album artwork in tracklists. Other basic updates include the introduction of Apple's San Francisco font, a new "Browse" tab, lyrics support, and new 3D Touch shortcut previews. Apple Music's streaming radio network, Beats 1, is believed to remain largely the same as it is currently presented in the app.
Read More: Eight Months Later, Apple Music Connect Still 'Fails Miserably' at Social