MacRumors 2016 Blood Drive
MacRumors is pleased to announce the Seventh Annual MacRumors Blood Drive, throughout the month of May 2016. Our goal every year is to save lives by increasing the number of life-saving blood and platelet donations. While most blood drives are specific to a geographic location, our blood drive is online and worldwide. To date we have recorded donations of over 300 units of blood and platelets.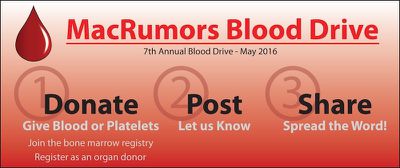 Led by CEO Tim Cook, Apple supports health, relief, and charity efforts, including the recent Apps for Earth promotion. The MacRumors Blood Drive is run by the staff and volunteers of MacRumors.
We ask that you:
1. Donate blood or platelets at any donation center near you, join the bone marrow registry in your country, and sign up for the organ donor registry in your state, province, or country.
2. Post in the MacRumors 2016 Blood Drive! thread to tell us about it and to accept our thanks.
3. Share our message with other people you know.
For details see the MacRumors 2016 Blood Drive! thread and our traditional Honor Roll of donors.


There are many reasons that you should participate in the MacRumors Blood Drive. Consider what some of our forum members have said:
User A.Goldberg:
I was diagnosed and treated for leukemia at age 4. When I got my first blood transfusion, the nurse told me that a stranger had donated it. Decades later, I am healthy thanks in part to some truly altruistic people out there. If you're considering donating, do it for me since I'm not eligible myself. Thanks!!!
User TheBean75:
Thank you for everyone who donates. I cannot (due to the mad cow thing) but my daughter was a micro-preemie born at 24 weeks and had 5 transfusions before her first month in the NICU. I know without the selfless act of donating by others she never would have made it.
User I14:
Thank you to everybody who is donating or has signed up for the bone marrow registry. After donating 42 units over the past years, last year I became a recipient with many units of blood and platelets and finally a bone marrow transplant as I battled leukemia. One of you may have saved my life. You will probably never meet the recipient of your donation, but they will be very thankful for your time, effort and your donation.
How to participate
1. If you are eligible, schedule a blood or platelet donation (see FAQ), in May if possible. Register for the bone marrow registry and/or register as an organ donor (see FAQ).
2. If you aren't eligible to donate blood for reasons of health, age, height/weight, recent donation, or the temporary deferral for gay men that applies in many countries, please encourage someone else to make a donation, and let us know. The U.S. FDA has revised the rules since last year; see our Blood donor eligibility forum thread.
3. Help our drive by thanking donors and convincing friends and relatives to donate as well.