During today's second quarter earnings call, Apple CEO Tim Cook spent some time talking about the success of Apple Pay, which he says is "growing at a tremendous rate." According to Cook, Apple Pay transaction volume is up 5X compared to a year ago and Apple Pay is gaining 1 million new users per week.
Across all of the countries where Apple Pay is available -- the U.S., UK, Canada, Australia, China, and Singapore -- Apple Pay is now available at more than 10 million contactless locations, including 2.5 million in the United States.
Despite its growth, Apple Pay does not provide a significant amount of revenue for Apple, but Apple CFO Luca Maestri says the company is interested to see how Apple Pay progresses in the future.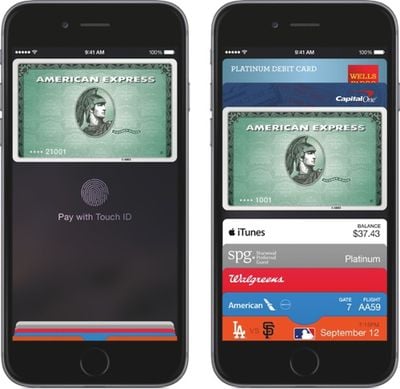 During the call, Cook said Apple Pay would expand to additional locations "soon," in line with rumors and evidence suggesting Apple Pay will soon be available in Spain, Hong Kong, Brazil, Japan, and France. For Spain and Hong Kong, Apple Pay will be introduced through a partnership with American Express in 2016, and a leaked MasterCard document points towards MasterCard support in Brazil, Hong Kong, Japan, and Singapore.
In addition to expanding Apple Pay's availability, Apple is also rumored to be working on several new features to increase its appeal, including the ability to make purchases from websites and the ability to make person to person payments as is possible with services like Square Cash and Venmo.