Apple Pay to Work With Mobile Websites Later This Year
Apple is planning to expand Apple Pay to allow iOS users to make purchases from websites later this year, reports Re/code. With the change, Apple Pay will be available to customers who visit websites and make purchases using the Safari browser on iPads and iPhones.
Currently, Apple Pay can be used to make purchases in brick and mortar stores and in third-party apps that support the service. Expanding Apple Pay to the Safari browser will alleviate the need for customers to download a store's app to make a payment with Apple Pay, resulting in a payment service that is more convenient and more closely resembles services like PayPal.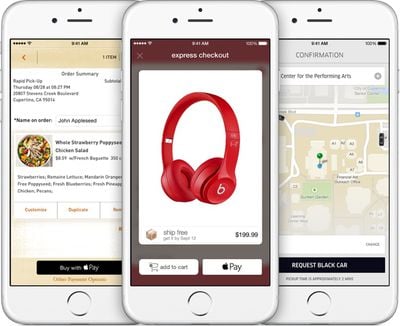 Apple is also said to be considering making Apple Pay available on Macs, but it is not clear how that would work without a fingerprint sensor.
The service will be available to shoppers using the Safari browser on models of iPhones and iPads that possess Apple's TouchID fingerprint technology, these people said. Apple has also considered making the service available on Apple laptops and desktops, too, though it's not clear if the company will launch that capability.
As when using Apple Pay to make a payment in an app, customers who make a purchase from mobile Safari will be able to do so without entering an address or a payment method, as that information is provided by Apple Pay and authenticated through a fingerprint.
Apple is said to be telling partner websites that the new Apple Pay feature will be available before the holiday shopping season, and Re/code believes an announcement could potentially happen at this year's Worldwide Developers Conference.
Apple Pay is now available in the United States, United Kingdom, Canada, Australia, and China, and it is expanding to additional countries later this year. Other rumors for the future of Apple Pay include a potential person-to-person payment feature that mimics Square Cash or Venmo.