Teardown Finds iPhone SE and iPhone 5s Displays Interchangeable
Yesterday, Chipworks' teardown of the iPhone SE confirmed that the new device uses a potpourri of components from several past iPhones, including the iPhone 5s. iFixit has completed its own teardown of the device, and its findings show that the new device includes several components that are interchangeable with iPhone 5s parts.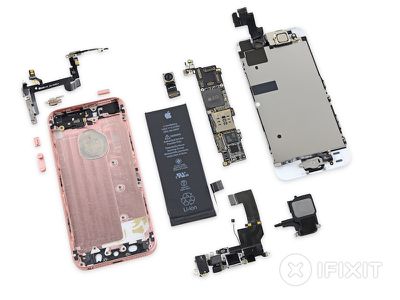 iFixit found that the iPhone SE's speaker, chassis, vibrator, SIM tray and display assembly, which includes the LCD, digitizer, front camera, earpiece speaker and proximity sensor are the same parts used in the iPhone 5s. According to iFixit's testing, the components are easily swappable and work in a "plug and play" fashion.
The non-swappable parts include the logic board, rear-facing camera, Lightning connector assembly and battery. The iPhone SE's battery comes in at 1,624 mAh, which is up from the iPhone 5s' 1,560 mAh battery. However, iFixit notes that the SE's battery comes with a different battery connector, so iPhone 5s users hoping to install a larger battery in their phones are out of luck.
The camera on the iPhone SE also comes with a different connector, using far fewer pins than the connector on the iPhone 5s' camera. Other differences include a Lightning connector that's a little different from the iPhone 5s' Lightning connector, failing iFixit's compatibility test. The power button bracket also has a contact cable "doohickey," likely for grounding.
iFixit awarded the iPhone SE a repairability score of 6 out of 10, with 10 being the easiest to repair. While the iPhone SE's similarities to the iPhone 5s make it easier to repair, it's still difficult to open because of the Pentalobe screws on the device's exterior. Like most iPhones, the Touch ID cable is also easily damaged if a user is not careful when opening the device.