First iPhone SE and 9.7" iPad Pro Orders Begin Arriving to Customers
It's just after 9:30a.m. in New Zealand, which means the first customers who ordered an iPhone SE or a 9.7-inch iPad Pro on March 24 are starting to receive their shipments. Soon, customers in Australia will begin receiving their devices, and the first Apple retail stores in the country will open for in-store sales.
New Zealanders have already started photos and news of their devices on social networks like Instagram, reddit, and Twitter, and a few lucky customers who ordered the 9.7-inch iPad Pro in the United States have also been receiving early shipments, as noted on Instagram, Twitter, and the MacRumors forums.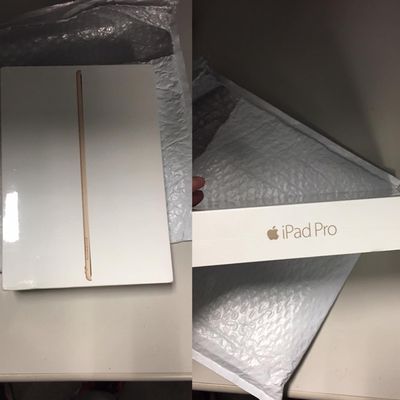 As March 31 hits around the world, the iPhone SE and the 9.7-inch iPad Pro will be available in first wave launch countries that include Australia, Canada, China, France, Germany, Hong Kong, Japan, New Zealand, Puerto Rico, Singapore, the UK, US Virgin Islands, and the US. Retail stores in these countries will be opening at approximately 9:00 a.m. local time, letting customers make walk-in purchases.
Customers in these countries who already placed an order for a new device will begin receiving those devices as soon as shipping outlets begin work in the morning, likely around 8:00 a.m. local time. Following deliveries in Australia and New Zealand, customers in Japan, China, Hong Kong, and Singapore will receive their devices, followed by deliveries in France, Germany, and the UK, and then orders will arrive in Canada, the US, Puerto Rico, and the US Virgin Islands.
In the United States, pre-order customers living on the east coast should begin receiving their shipments starting at 8:00 a.m. local time from couriers like FedEx and UPS in approximately 18 hours. Orders set to arrive on March 31 have already shipped from Apple using Next Day shipping.
Big box retailers like Walmart, Target, and Best Buy will begin in-store sales of the iPhone SE and 9.7-inch iPad Pro starting on the morning of March 31, as well carriers like AT&T, Sprint, T-Mobile, and Verizon.
In the United States, the iPhone SE is priced at $399 for 16GB and $499 for 64GB. Orders placed today from Apple's online store will be delivered starting on April 13.
Pricing on the 9.7-inch iPad Pro starts at $599 for a 32GB Wi-Fi only model and goes up to $1,029 for a 256GB Wi-Fi + Cellular model. Orders placed today from the online store will be delivered starting next week.