Barclays Now Showing Apple Pay Terms and Conditions [Updated]
British bank Barclays appears to be in the process of enabling much-anticipated Apple Pay support in the United Kingdom, as multiple Twitter users have shared screenshots of a new terms and conditions page that now appears when attempting to add a Barclays-issued card to the iPhone-based mobile payments service.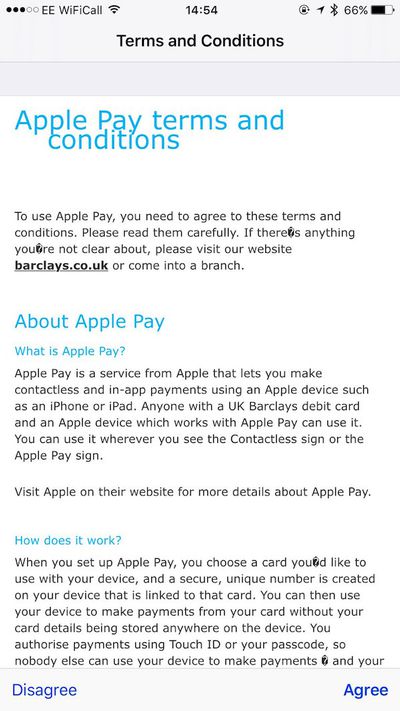 The new terms and conditions landing page is a telltale sign that Barclays may be on the verge of finally becoming an Apple Pay participating issuer, nearly nine months after the service
launched in the United Kingdom
and within striking distance of its latest promise of a
late March rollout
.
Barclays has repeatedly hinted that Apple Pay support is coming, but it has yet to deliver on those plans. In July 2015, the bank said Apple Pay support was "imminent," but later confirmed an "early 2016" target, and most recently said the service would launch "within 60 to 75 days" of January 12, or by around March 28.
Barclays has been the largest Apple Pay holdout in the U.K. to date. Other participating banks include First Direct, HSBC, MBNA, Nationwide, NatWest, RBS, Santander, Ulster Bank, and more. iPhone and Apple Watch users can tap to pay at over 250,000 locations across England, Scotland, Wales, and Northern Ireland.
Update: A tipster who wishes to remain anonymous has informed us that Barclays employees have been testing Apple Pay internally with their own debit and credit cards over the past month, as shown in the screenshot below.


The source believes that Barclays will publicly support Apple Pay within a few weeks pending Apple's approval. Apple is also said to be interested in executing a marketing campaign related to the announcement.