New Apple Watch Bands Now Available for Personal Pickup
The new Apple Watch bands that were introduced at Monday's "Let Us Loop You In" event are now available for personal pickup from Apple's online store, letting prospective buyers check in-store stock levels and arrange for in-store pickup after purchasing online.
Apple has been selling the new Apple Watch bands in retail stores since earlier this week, but prior to today, there was no way to know if a particular store had a specific band available for purchase.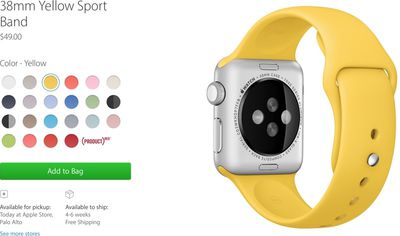 Many bands that will not ship for several weeks from the online store, such as the Gold/Royal Blue Woven Nylon band and the Yellow Apple Watch Sport band, are immediately available in Apple retail stores across the country. There are some bands, like the 38mm Scuba Blue and Gold/Red Woven Nylon, that appear to be in shorter supply and are not available at most stores.
The Woven Nylon bands, available for $49 in Gold/Red, Gold/Royal Blue, Royal Blue, Pink, Pearl, Scuba Blue, and Black, are a new product line that just debuted this week. Apple has also updated the Sport Band, Modern Buckle, Leather Loop, and Classic Buckle with new spring color choices and introduced a new Black Milanese Loop.