9.7-inch iPad Pro and iPhone SE Both Have 2GB RAM
Apple never announces the RAM in its iOS devices, so that metric often remains a mystery until a device teardown or benchmarking tests. TechCrunch's Matthew Panzarino has an iPhone SE and a new iPad Pro on hand, and was able to use a memory checking app to determine the RAM in both devices.
Based on his testing, it appears that both the iPhone SE and the 9.7-inch iPad Pro include 2GB of RAM.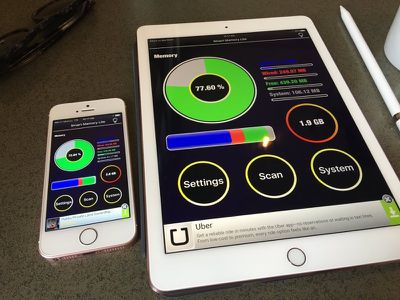 2GB RAM puts the iPhone SE on par with the iPhone 6s and the iPhone 6s Plus, both of which also include 2GB of RAM. As for the 9.7-inch iPad Pro, 2GB RAM means its performance isn't going to measure up to the 12.9-inch iPad Pro, which is equipped with 4GB RAM.
As was recently discovered, the 9.7-inch iPad Pro also features a slightly underclocked A9X processor, another factor that will impact its performance compared to the larger tablet.
Geekbench testing by Panzarino suggests the iPhone SE is not underlocked compared to the iPhone 6s, with the A9 in the device running at 1.85GHz. On the test, the iPhone SE received a single-core score of 2538 and a multi-core score of 4421, on par with or slightly better than tests conducted on the iPhone 6s.


Given that it includes the same processor and the same RAM, the iPhone SE is as powerful as the iPhone 6s despite its much smaller form factor and lower price. The new iPad Pro, while less powerful than its larger sibling, has its own unique features, including a 12 megapixel camera with rear flash and a unique True Tone display.