Apple today released tvOS 9.2 to the public, marking the second major update to the tvOS operating system since the fourth-generation Apple TV was released in October. tvOS 9.2 has been in beta since January 11 and brings a slew of new features that were introduced throughout the testing period.
tvOS 9.2 can be downloaded over-the-air through the Settings app on the Apple TV 4 by opening the System section and choosing the Software Update option.
tvOS 9.2 brings two new text input methods -- dictation and Bluetooth keyboards -- to the fourth-generation Apple TV, making it much easier to insert passwords and search for content like apps, movies, and television shows. Bluetooth keyboard support is a major feature that was missing from previous versions of tvOS, a curious absence as the Apple TV 4 has supported Bluetooth gaming controllers since launch.
With dictation support, Apple TV users can dictate text for tasks like spelling user names and passwords instead of typing them in. Dictation capabilities are available in all countries where Siri is available on the Apple TV. Bluetooth keyboard support and dictation join the Siri remote and the Apple TV iOS app as ways to interface with the Apple TV 4.


In tvOS 9.2, apps can be grouped into folders, making it possible to create a more organized iOS-style Home screen, and there's also a new look for the App Switcher interface.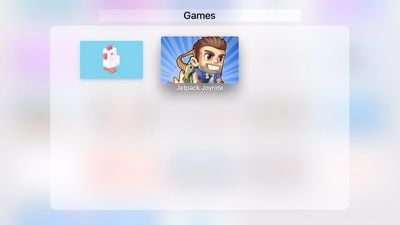 Full support for iCloud Photo Library is included, so Apple TV users can access all of their photos on the device, including Live Photos taken with the iPhone 6s and 6s Plus. Photo Stream was the only available photo option prior to tvOS 9.2, and iCloud Photo Library can be turned on through the Settings app.


Siri's capabilities are expanded in tvOS 9.2, a change that may be the most welcome to most Apple TV users. Siri is now able to search the App Store, improving app discovery. Using Siri, searches can be made for specific apps or categories of apps, like social media or games.
After installing tvOS 9.2, Apple TV owners will be prompted to update their Siri Remotes with new firmware. The update will improve motion sensor performance within games and apps and it adds support for additional sound bar and receiver hardware.
Other new features in tvOS 9.2 include support for MapKit, so developers can incorporate maps into their tvOS apps, and additional Siri languages. Siri supports US Spanish (in the US only) and French Canadian (in Canada only). UK English, Australian English, and US English are available as options in the UK, Australian, and US Storefronts when English is set as the tvOS language.
With today's update, the fourth-generation Apple TV is gaining sorely needed features to improve the overall user experience, so Apple TV owners will likely want to install the new software right away.