In January it was announced that Nerds, a musical about the rivalry between Apple co-founder Steve Jobs and Microsoft co-founder Bill Gates, would begin its Broadway run on March 31, 2016. Today, producer Carl Levin announced that the production would have to cancel its Broadway run, reports Variety.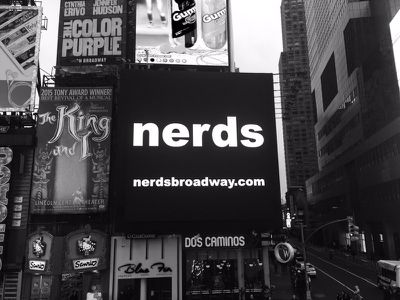 "On behalf of my fellow producers and investors, it is with great disappointment that we will be postponing the Broadway opening of 'Nerds' due to the loss of a major investor," said producer Carl Levin ("Rock of Ages") in a statement. Levin led a team of producers that included Elizabeth Williams, Greenleaf Productions and Clear Channel Spectacolor.
The musical, which featured lyrics by Robot Chicken's Jordan Allen-Dutton and Erik Weiner and music by Hal Goldberg, was set to feature "an array of tech" that included holograms and a companion app that allowed the audience to choose the show's ending. The musical comedy would chronicle the rise of Jobs and Gates and the competition between their companies.
An early version of Nerds debuted in 2005 at the New York Musical Theater Festival before going on two runs at the Philadelphia Theater Company. In 2013, it had a run at the North Carolina Theater. The latest iteration was in rehearsals with a cast that included The Book of Mormon's Rory O'Malley as Steve Jobs and Memphis' Bryan Fenkart as Bill Gates. While the show will not play Broadway in 2016, producers say a national touring version of the show is in the works.