An upcoming musical comedy that highlights the rivalry between Apple co-founder Steve Jobs and Microsoft co-founder Bill Gates is set to debut on Broadway on March 31, 2016. Called Nerds, the musical will chronicle the rise of Jobs and Gates and the competition between their two companies.
According to Variety, the musical will feature "an array of tech" like onstage holograms, projection mapping, and an interactive in-show app that lets audience members interact with one another and help choose the show's ending each night.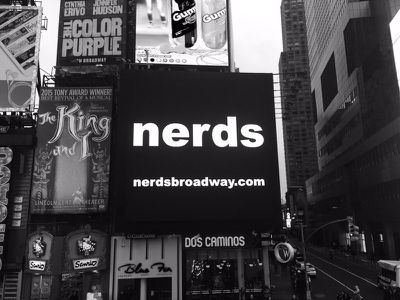 "We're thrilled to add a jolt of comedy to this already astounding theater season, with this hilarious tale of the Founding Fathers of Tech, from a creative team stacked with new voices," said producer Carl Levin. "While fine-tuning and re-coding the show for this exciting launch, we've also been exploring innovative ways to enhance the 'user experience' inside the theater, for a uniquely entertaining event - compatible for Broadway audiences of all generations."
The cast for Nerds has not yet been announced, but the play was written by Jordan Allen-Dutton and Erik Weiner, both of whom previously wrote for cartoon series Robot Chicken. Casey Hushion directs, while music was written by Hal Goldberg.
Previews for the show start on March 31, 2016, and its official opening date is April 21, 2016. Tickets are available from the Nerds website with prices that start at $39.