Night Shift Beta Tidbits: Disabled in Low Power Mode, Control Center Changes
Apple has made some changes to Night Shift in iOS 9.3 betas 4 and 5. The most notable change is the disabling of the feature when in Low Power Mode. The toggle switch in both the Night Shift settings and Control Center are now grayed out in Low Power Mode.
The new change has generated some complaints since it seems that users will want to use both features in the evening hours.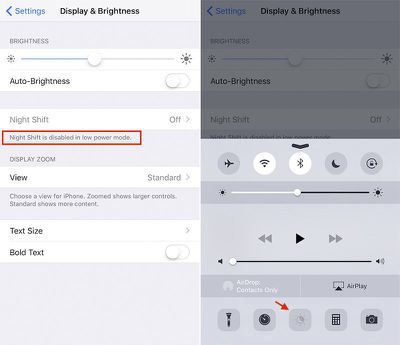 Night Shift is now disabled in Low Power Mode on iOS 9.3 betas
Meanwhile, tapping the Night Shift icon in Control Center no longer brings up a contextual menu with "Turn On For Now" and "Turn On Until Tomorrow" options. Instead, the toggle now manually activates Night Shift until the next trigger in your automatic schedule, such as sunset, sunrise, or a specific time.

Night Shift no longer has a contextual menu in Control Center (right)
Similarly, there is a new "Manually Enable Until Tomorrow" toggle in the Night Shift settings that keeps the feature turned on until the following morning's sunrise, or another specified time. This means the toggles in Settings and Control Center, which can also disable Night Shift, are essentially the same in this beta.
Also in the settings, the color temperature slider has also been moved to the bottom of the menu. The "Cooler" and "Warmer" labels have been changed to "Less Warm" and "More Warm," while the small blue and orange circle markers have been removed. New fine print says "warmer temperatures can reduce eye strain."
Night Shift is a major new feature in iOS 9.3 that, when enabled, automatically changes the color temperature of an iOS device's display to reflect the time of day. The feature helps to limit your exposure to blue light in the morning and night, which makes the display easier on your eyes and can improve your circadian rhythm.
Apple seeded the fifth beta of iOS 9.3 to developers and public testers on Tuesday. The software update will likely be public released this month. To read about and share other changes, head over to our iOS 9.3 Beta 5 Bug Fixes, Improvements, and Changes topic in our community discussion forums.