Apple and FBI to Testify at Congressional Hearing on Encryption Next Week
Apple's legal chief Bruce Sewell and FBI Director James Comey will both testify at a U.S. congressional hearing on encryption issues planned for March 1, the House Judiciary Committee announced today.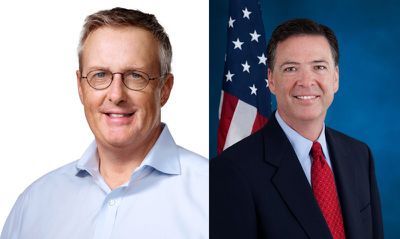 Comey will participate in the first panel, while Sewell will testify in the second panel alongside Worcester Polytechnic Institute professor Susan Landau and New York District Attorney Cyrus Vance. Vance last week said his office was in possession of 175 iPhones that can't be accessed due to encryption. "This has become the Wild West in technology," he said. "Apple and Google are their own sheriffs and there are no rules."
The congressional hearing, titled "The Encryption Tightrope: Balancing Americans' Security and Privacy" will examine encryption technology and its impact on American citizens and lawmakers with the goal of finding a solution that lets law enforcement do their jobs without affecting the privacy protections of U.S. citizens.
"The widespread use of strong encryption has implications both for Americans' privacy and security. As technology companies have made great strides to enhance the security of Americans' personal and private information, law enforcement agencies face new challenges when attempting to access encrypted information. Americans have a right to strong privacy protections and Congress should fully examine the issue to be sure those are in place while finding ways to help law enforcement fight crime and keep us safe.
Head Apple lawyer Bruce Sewell is leading Apple's legal team in its fight against the FBI. Apple plans to oppose an order that would require it to help the FBI brute force the passcode on San Bernardino shooter Farook Syed's iPhone. The FBI is demanding Apple create a software that would both disable passcode security features and allow passcodes to be entered electronically.
In an interview yesterday, Tim Cook said that the FBI was asking Apple to build the "software equivalent of cancer," something the company won't do. While Apple has announced its intentions to fight the order, its official appeal is due tomorrow.
Update: In related news, Microsoft today announced its full support of Apple's decision to stand against the FBI. Next week, Microsoft plans to file an amicus brief to back the company. Verizon has also come out in support of Apple. "We support the availability of strong encryption with no backdoors," Verizon CEO and chairman Lowell McAdam said in a statement.
Note: Due to the political nature of the discussion regarding this topic, the discussion thread is located in our Politics, Religion, Social Issues forum. All forum members and site visitors are welcome to read and follow the thread, but posting is limited to forum members with at least 100 posts.