Latest iOS 9.3 Beta Unbricks iPhones Affected by 'January 1, 1970' Date Bug
The most recent beta of iOS 9.3, provided to developers and public beta testers earlier this week, fixes a bug that caused 64-bit iPhones and iPads to be disabled or "bricked" when the date was set to January 1, 1970.
Discovered in mid-February, the "1970" bug occurs whenever an iOS device's date is manually set to 1970, resulting in a continuous reboot cycle. Speculation has suggested the reboot loop is the result of an integer underflow that causes the iPhone to reset the date to the maximum value, a huge number that iOS devices may be unable to process.
With iOS 9.3 beta 4, the date on the iPhone or iPad can't be set beyond December 31, 2000 at 7:00 p.m. ET, which equates to 1/1/01 at 12:00 a.m. GMT. That effectively puts an end to the 1970 bug, which was used to trick some people into bricking their devices.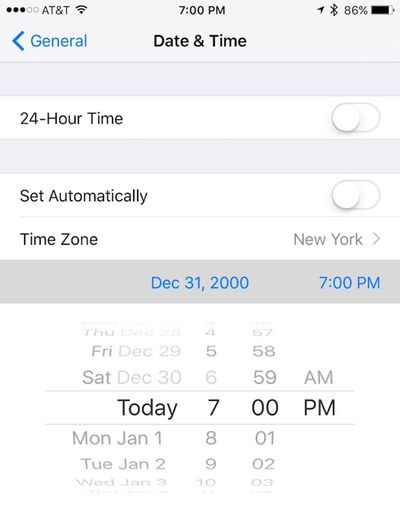 The beta also introduces a fix for devices that had been disabled by the bug. As explained on the MacRumors forums, devices stuck in boot loops were able to be restored to working order through a restore using iOS 9.3 beta 4.
This update fixed the 1970 date bug. Had two retail units stuck in boot loops do to some pricks setting the date to 1970 and restoring in DFU mode did not help. But restorting to this BETA update made both devices go back to normal.
Previously, there was no clear fix for devices that had been affected by the bug aside from disconnecting the battery, requiring users to go to the Genius Bar at an Apple retail store or attempt risky self-repairs. Apple promised a fix in an "upcoming software update," which appears to be iOS 9.3.
iOS 9.3 is currently only available to developers and public beta testers, but we may be nearing the end of the beta testing period. Apple has said the software will debut in the spring, and it's likely we will see it launch to the public following the company's rumored March 15 event where it is expected to introduce the iPhone 5se, the iPad Air 3, and new Apple Watch bands.