Apple TV Universal Search Gains Watch ABC, Disney Channel and More
Apple has today added four new universal search options to the fourth-generation Apple TV: Watch ABC, Disney XD, Disney Channel and Disney Jr. This allows users to easily find content like Modern Family and Star Wars Rebels after pressing the Siri button on the Siri Remote. The move brings the total number of sources in universal search to 14.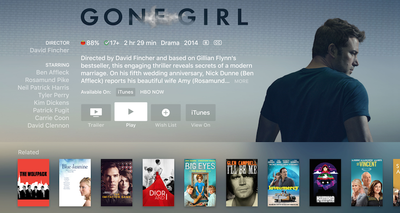 At launch, universal search only worked with iTunes, Netflix, Hulu, HBO (Now and Go) and Showtime (Regular and Anytime). Apple had promised to expand the feature and the number of sources included over time and has, thus far, delivered on that promise. Last month, Apple added FOX NOW, FX NOW and National Geographic as sources; in January, Apple added PBS and PBS Kids.
In the United States, universal search across all 14 services is available. In Australia, Canada, France, Germany and the United Kingdom, universal search is only available across iTunes and Netflix. In other countries and regions, universal search is only available across iTunes Movies.
Apple plans to continue opening up its universal search API to additional partners and apps in the future.