Apple TV Universal Search Feature Expands to FOX NOW, FXNOW, and NAT GEO
Universal search, which allows users to find content across multiple apps and services using text or Siri voice search, is one of the most useful features on the new fourth-generation Apple TV. At launch, universal search worked with iTunes, Netflix, Hulu, HBO, and Showtime, but Apple promised to expand the feature to include additional content sources over time.
Apple has made good on that promise. As of today, searching for content on the Apple TV will encompass the aforementioned apps along with FOX NOW, FXNOW, and National Geographic. Apple also expanded universal search to include PBS and PBS Kids in January.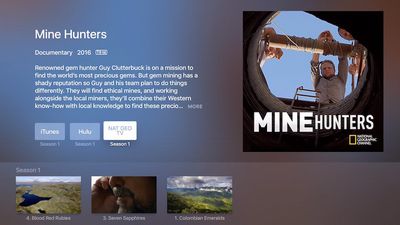 Apple maintains a full list of apps that are included in the Apple TV's universal search feature in a dedicated support document. The new channels aren't listed yet, but should be added to the document in the near future.


Universal search across iTunes, HBO GO, HBO NOW, Hulu, Netflix, PBS, PBS Kids, Showtime, Showtime Anytime, FOX NOW, FXNOW, and NAT GEO is limited to Apple TV users who are located in the United States. Content from these apps will be displayed when a user asks Siri to find a movie or television show or conducts a text-based search.
In Australia, Canada, France, Germany, and the UK, universal search only encompasses movies and TV shows on iTunes and Netflix, and with all other countries, search is only available for movies in iTunes.
Apple plans to continue opening up its universal search API to additional apps going forward.