Apple Music on Sonos Officially Launching Tomorrow
Sonos today announced that Apple Music will be officially available on Sonos wireless speakers starting tomorrow, ending a two month beta testing period. Sonos customers across the world will be able to stream Apple Music content and directly access Apple Music features including For You, Radio, and My Music.
Over the course of the beta test, which started on December 15, Apple Music on the Sonos platform was tested by hundreds of thousands of listeners. Apple's Eddy Cue commented on the beta test, calling it "great" and an "amazing listening experience."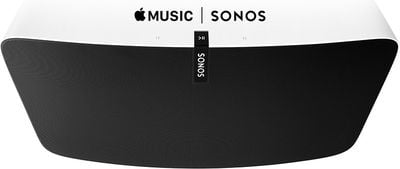 "The feedback from Apple Music members on Sonos during the beta period has been great," said Eddy Cue, Apple's senior vice president of Internet Software and Services. "Sonos plus Apple Music provides an amazing listening experience at home - and we're excited to offer it to all Sonos customers starting tomorrow."
Beginning Wednesday, February 10, streaming Apple Music on Sonos speakers can be done by selecting "Add Music Services" from a Sonos controller app, choosing the Apple Music icon, and logging into the service. An Apple Music subscription or free trial is required.
Apple Music on Sonos has been highly anticipated as it was noticeably absent from the system when Apple Music first launched on June 30. Sonos previously supported the direct streaming of Beats Music and promised to implement Apple Music support before the end of 2015.
Ahead of the announcement of official Apple Music support, Sonos conducted a study on the positive effects of music listening in the home using an Apple Music subscription paired with a Sonos sound system. The study found that families who regularly listened to music in the home spent 67 percent more time together and ate together more often, among other positive effects.