Sony's Dual Camera to See Inclusion in Devices From 'Major Smartphone Players'
Sony, the manufacturer behind many of the camera sensors used in Apple's iOS devices, recently confirmed that its dual-lens camera platform will be featured in devices from "major smartphone players" in 2016. The information was shared by Sony CFO Kenchiro Yoshida during the company's recent Q3 2015 earnings call and was highlighted by Xperiablog.
Sony's camera technology is used by a wide range of smartphone manufacturers, including Apple, and Yoshida declined to name specific companies that would take advantage of Sony's dual-lens camera platform. Dual-lens technology has previously been used in smartphones such as the HTC M8, but it may soon become a more popular option following rumors that Apple plans to incorporate a dual-lens system into its iPhone 7 Plus.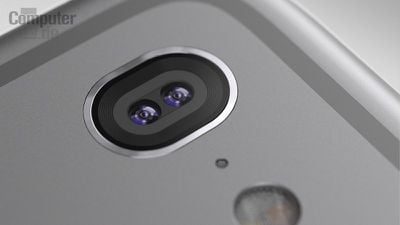 iPhone 7 mockup with dual-lens camera system (Image:

Computer Bild

)


Apple is said to be planning to use dual-lens technology it acquired from Israeli camera company LinX in the iPhone 7 Plus, but Apple may still be incorporating Sony sensor components into its camera module. Apple is also said to be testing dual-lens camera samples from a range of manufacturers in Taiwan, Japan, and China.
According to Yoshida, dual-lens camera systems will be coming from multiple major smartphone manufacturers this year, but because of slowdowns in the high-end smartphone market could impact production, 2017 will be the year when the dual lens camera platform really takes off.
Well, for next year, our so-called dual lens - dual camera platform will be launched by, we believe, from major smartphone players. However, as I said previously, recently, our smartphone market is growing and particularly, our high-end smartphone market is now slowing down. So, that may impact the demand or production schedule of dual camera smartphones by the major smartphone manufacturers. So, we believe the real start, the takeoff of smartphone with dual lens camera will be in the year of 2017."
Rumors have suggested Apple is planning to incorporate a dual lens camera system into the iPhone 7 Plus to differentiate it from the iPhone 7, which will continue to offer a more traditional single-lens camera. Should Apple follow through with its plans, its first dual-lens system will debut towards the end of 2016, likely in September.
The launch of the iPhone 7 is still multiple months away, but details about the new device have been steadily trickling out. Yesterday, MacRumors shared information on the device's design, which is expected to be similar to the iPhone 6s design but with a flush rear camera and no antenna bands across the back. Other rumors suggest it will have improved water resistance and no headphone jack.