Apple Recalls Some International Wall Adapters Due to Risk of Electrical Shock
Apple today issued a voluntary recall for certain two-prong AC wall plug adapters designed for use in Argentina, Australia, Brazil, Continental Europe, New Zealand, and South Korea, due to the risk of electrical shock if touched in very rare cases. Apple has also advised customers to stop using affected plug adapters.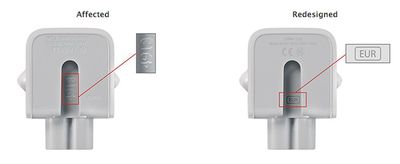 Apple is offering a new, redesigned adapter for free to affected customers.
Customer safety is always Apple's top priority, and we have voluntarily decided to exchange affected wall plug adapters with a new, redesigned adapter, free of charge.
The recalled wall plug adapters shipped with Macs and some iOS devices sold between 2003 and 2015, and were also included in the Apple World Travel Adapter Kit. Apple says an affected wall plug adapter has 4 or 5 characters or no characters on the inside slot where it attaches to a power adapter.

Affected adapter prong types
Redesigned adapters have a 3-letter regional code in the slot, such as EUR, KOR, AUS, ARG or BRA. Apple says other wall plug adapters, including those designed for the U.S., Canada, China, Hong Kong, Japan, and the U.K., and Apple USB power adapters, are not affected by this program.
Apple's
AC Wall Plug Adapter Exchange Program
provides instructions on how to identify your wall adapter and initiate the exchange process.