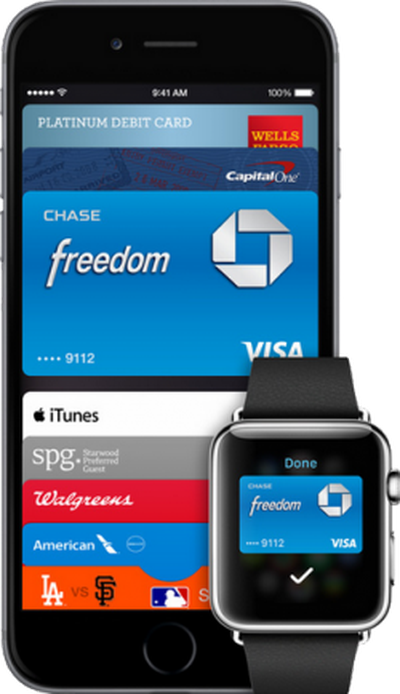 Apple updated its Apple Pay participating issuers list today with 51 additional banks, credit unions and financial institutions supporting the contactless payment service in the United States. Apple Pay now has over 950 participating issuers nationwide, and several more plan to support the NFC-based mobile payment service in the future.
The newly added Apple Pay participating issuers are reflected below, although it's worth noting that some banks, credit unions and financial institutions listed may have already had support for the contactless payments service and are only now being reflected on Apple's website.
The full list of new Apple Pay participating issuers:
Achieve Financial Credit Union

Advantage Federal Credit Union

Alloy Federal Credit Union

Altoona First Savings Bank

Altura Credit Union

Amalgmated Bank of Chicago

Associated Credit Union of Texas

Bank of Ann Arbor

Beehive Federal Credit Union

Brand Banking Company

Business Bank of St. Louis

Capitol Credit Union

Charlotte State Bank & Trust

Citizens Bank (AL)

Citizens Savings Bank

Community Credit Union

Credit Union of Texas

Earthmover Credit Union

Employment Security Credit Union

Family Trust Federal Credit Union

First Community Bank of Beemer

First Interstate Bank

First Service Federal Credit Union

First State Community Bank

Fort Community Credit Union

Georgia Bank and Trust

HomeStar and Financial Services

Houston Highway Credit Union

IDB-IIC Federal Credit Union

Katahdin Federal Credit Union

Lion's Share Federal Credit Union

Mainstreet Community Bank of Florida

Marine Bank & Trust

Marine Federal Credit Union

Monona State Bank

Navy Army Community Credit Union

Northway Bank

Plaza Park State Bank

Reliant Community Credit Union

Security Bank and Trust Company

Silver State Schools Credit Union

Spencer County Bank

Summit Community Bank

Sundance State Bank

The Commerce Bank of Washington

Tioga State Bank

Torrance Community Credit Union

Total Community Credit Union

Triangle Credit Union

United Community Bank

USNY Bank

Apple is committed to an international expansion of Apple Pay, having launched the mobile payments service in Australia and Canada in November in partnership with American Express. Apple Pay is also coming to Hong Kong, Singapore and Spain this year, and the service will launch in China in early 2016 in partnership with UnionPay.
Apple Pay gained support for BJ's Wholesale Club private label credit cards and 66 new U.S. issuers on December 15, plus nearly another 60 issuers on January 5. On the merchant side, Cinnabon, Chili's, Domino's, KFC and Starbucks will support Apple Pay in the U.S. starting this year.