Productivity App Sale Offers 50% Off Clear, 1Password, Duet Display and More
Apple is offering 50 percent off a range of productivity apps as part of a "Get Productive" iOS App Store promotion that's taking place this week. Each app is available at a 50 percent discount from its regular App Store pricing. Many well-known apps like Clear, Things, Drafts 4, and Deliveries are included in the promotion.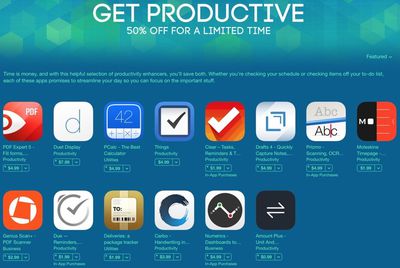 Available apps cover a wide range of productivity tasks, from note-taking and editing PDFs to creating to-dos, making scans, converting currency, and more. A full list of apps and their pricing with the discount is below:
- PDF Expert 5, a PDF editing tool - $4.99
- Duet Display, for using an iPad or iPhone as a second monitor - $7.99
- Things, a popular and powerful to-do app - $4.99
- PCalc, a calculator app - $4.99
- Clear, a list making app - $1.99
- Drafts 4, a quick note-taking app - $4.99
- Prizmo, a scanning app - $4.99
- Moleskine Timepage, a calendar app - $1.99
- Genius Scan+, a scanning app - $2.99
- Due, a reminders/timers app - $2.99
- Deliveries, a package tracking app - $1.99
- Carbo, an app for making handwritten notes - $3.99
- Numerics, an app for visualizing numbers in charts and widgets - $4.99
- Amount Plus, a unit and currency converter - $0.99
Some of these apps have Mac counterparts that are also being offered at a 50 percent discount, including PCalc, Things, Clear, and Prizmo.
Apple's App Store promo sales often last from Thursday to Thursday, so these discounts should be available for the next six days.
In a separate sale, password management app 1Password for Mac is available from the Mac App Store at a 50 percent off discount, dropping the price to $24.99. This is the lowest price AgileBits has offered for several months, and at $24.99, 1Password is well worth picking up. The iOS app is a free download.