Apple Canada's iOS 9.3 Preview Page Hints at Night Shift Toggle in Control Center
With the iOS 9.3 beta, Apple introduced a new feature called Night Shift. It's designed to cut down the amount of blue light an iOS device puts out in the evening, as Apple noted that studies have shown that blue light can negatively impact sleep by altering the body's circadian rhythm. Today, reddit user nickjosephson spotted a Night Shift toggle in Control Center on Apple Canada's iOS 9.3 preview page.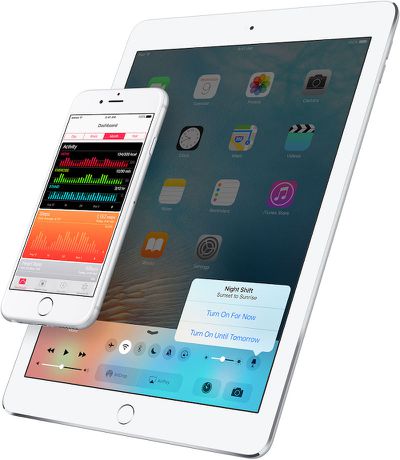 The Night Shift toggle sits next to the brightness slider in Control Center with two options available: "Turn On For Now" and "Turn On Until Tomorrow." While the toggle is shown on an iPad Air, it's likely the new feature works on iPhones as well, though it's unclear where the toggle would fit on the iPhone's smaller Control Center.
The Night Shift toggle is not featured on the American version of the iOS 9.3 preview page, which instead shows Apple News' "For You" section. Apple News is not yet available in Canada, which is the likely reason why the images are different.
Night Shift can be activated on 64-bit iOS devices running iOS 9.3 by toggling it on in the Display and Brightness section of the Settings app. Users can either create their own Night Shift schedule or allow iOS to turn it on after sunset and turn it off at sunrise.
The Night Shift toggle is likely to make its debut in a future beta of iOS 9.3. The next beta is expected in the coming weeks.