Apple Seeds iOS 9.3 Beta 1.1 to Developers With Fix for Installation Issue
Apple today seeded a minor 1.1 update for the iOS 9.3 beta that was provided to developers earlier this week to fix a few critical bugs that needed to be immediately addressed.
The iOS 9.3 Beta 1.1, build 13E5181f, is available as an over-the-air update and through the Apple Developer Center.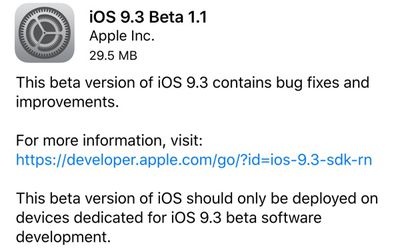 According to Apple's release notes, the iOS 9.3 1.1 beta fixes an installation issue that developers encountered when trying to install the first iOS 9.3 beta. On some devices, updating to iOS 9.3 failed, causing the update to freeze at the Apple logo. We at MacRumors encountered this installation issue on an iPad mini 2, with multiple failures preventing the beta from being installed.
The update also fixed an issue with apps that used compass data on devices that did not include a motion coprocessor. On these devices, the locationd service would continually crash for as long as the compass request continued.
As a major .1 update to the iOS 9 operating system, iOS 9.3 introduces quite a few new features. There's a new Night Shift mode that cuts down on the amount of blue light iOS users are exposed to in the evening hours by automatically shifting the iPhone or iPad display to a warmer (yellower) color spectrum, and there are several new features designed to improve the iPad for Education program.
Several apps and features are also being updated, including Health, Notes, CarPlay, and ore, plus there are new Quick Actions for Weather, Settings, Compass, Health, App Store, and iTunes Store.
iOS 9.3 is expected to be released to the public in the spring, so it is likely to see several additional updates over the beta testing period.