VLC for Apple TV Now Available on tvOS App Store
Following a lengthy beta testing period, VideoLAN has announced that its VLC app is now available for the fourth-generation Apple TV on the tvOS App Store.
The app is a full port of the VLC media player and supports virtually all video formats in line with the VLC for iOS app. There are also many tvOS-specific features.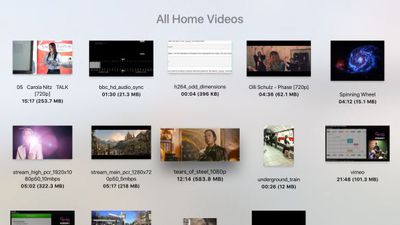 - Content Discovery: The app automatically discovers video files stored on your local network, using the SMB, UPnP media server, FTP and PLEX protocols. You can browse through videos with the Siri Remote and select content for playback. During playback, subtitles can be added from OpenSubtitles.org.
- Saved Logins: Login credentials can be securely stored on the Apple TV and will be synchronized to and from your iPhone and iPad.


- Remote Playback: VLC displays an IP address under the Remote Playback menu on Apple TV. This address can be typed into your computer's web browser, and an interface will pop up allowing you to drag and drop a file to play it on your TV remotely.
You can drag and drop multiple files to queue them. The files will remain available locally on the Apple TV until its internal storage is maxed out. The web interface can be used for remote play, pause and seeking.
For playback of a network stream URL on your TV, just paste it to the field and push return. Once playback concludes, you will find it in the Network Stream view for future use. Like for files, you can send multiple URLs rows in a row and they will be attached to the playback queue.


- Playback: VLC for the Apple TV supports basic play, pause and seek controls. You can navigate the app by chapter and titles or select from multiple audio and subtitles tracks. Other features include custom playback speed and hatchet.is integration for artist imagery and biographies.
VLC is currently beta testing Apple TV support for cloud services Dropbox, OneDrive and Box. The feature will be available in the near future.