Samsung to Add iOS Support to Gear S2 Smart Watch Later This Year
Samsung today held a press conference at the Consumer Electronics Show in Las Vegas, where the company announced new rose gold and platinum variants of its Samsung Gear S2 smart watch and pledged future iOS support for the device.
First introduced in August, the Gear S2 is Samsung's newest smart watch and its first with a round display. The Gear S2 was originally available in black or silver with matching leather or rubber bands, but later this year, Samsung will also introduce high-end 18-karat rose gold and platinum plated versions, made from real precious metals much like the Apple Watch Edition.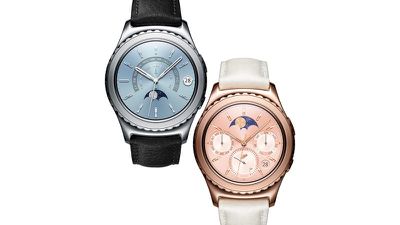 At the current time, the Gear S2, which runs Samsung's Tizen operating system, is compatible only with Samsung smartphones, but that's set to change. Samsung says that later in the year, it will "bring the Gear S2 to iOS," allowing it to compete with the Apple Watch on Apple's own platform. Samsung didn't share additional details on when iOS compatibility might be implemented.
Samsung announced several other products at CES, including a Surface Pro-style 12-inch Galaxy Tab Pro S tablet that runs Windows 10 and two very thin Notebook 9 ultrabooks. The Tab Pro S, which weighs 1.5 pounds, features a 2160 x 1440 Super AMOLED display, an Intel Core M processor, 4GB RAM, and up to 256GB storage.


Samsung's Notebook 9 laptops are available in 13.3 and 15-inch sizes, with the smaller of the two weighing in at 1.85 pounds, which is lighter than the Retina MacBook. The larger version weighs 2.84 pounds, and both feature a 1080p display. Max specs for the Notebook 9 laptop includes a Core i7 CPU, 256GB flash storage, and 8GB RAM. Pricing and release info on Samsung's NoteBook 9 laptops and the Galaxy Tab Pro S is not yet available.