Under its premium LaCie brand, Seagate has debuted its latest design-focused product, the LaCie Chromé desktop solid state drive. The Chromé is LaCie's first product that takes advantage of USB 3.1 and USB-C connectivity, offering transfer speeds of up to 940MB/s.
As a designer product, the Chromé features a mirrored exterior that was designed by Neil Poulton. The Chromé follows past design-oriented LaCie products including the 2014 LaCie Sphére and the 2015 LaCie Mirror.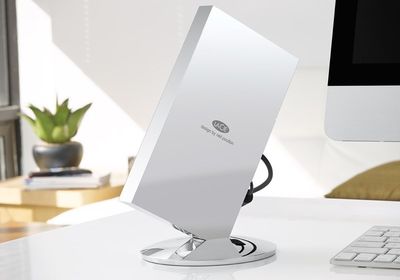 According to LaCie, the Chromé's rectangular design, magnetic base, and chrome mirrored finish are an homage to a 1935 bronze statue from sculptor Constantin Brâncuși.
"The LaCie Chromé is a concept reduced to its essence: a rectangle tilted onto its corner, melting into its base like quicksilver," said Neil Poulton, Chromé designer.
To take full advantage of USB 3.1 10 GB/s transfer speeds, the Chromé includes two 500GB SATA SSDs in a RAID 0 configuration. At top transfer speeds of 940MB/s, LaCie says the Chromé is able to process two hours of 4K GoPro footage in "a little over one minute." The Chromé's enclosure is machined from solid aluminum blocks for heat dissipation, plus there's a blower that adds cool air and a heat sink to draw hot air away from the SSDs.


The Chromé has a USB-C port that's compatible with Apple's Retina MacBook, but it also works with standard USB 3.0 Type-A ports using an included adapter cable. LaCie plans to begin shipping the Chromé during the first quarter of 2016. It will retail for $1,100.
Along with the Chromé, LaCie is also updating its Porsche product lineup with USB-C connectivity. LaCie's new Porsche Design Mobile and Desktop Drives include a USB 3.1 Type-C port for use with devices like the Retina MacBook. When plugged in to a wall socket, the Porsche Desktop Drive is able to offer passthrough charging capabilities for Apple's MacBook.

LaCie Porsche Design Desktop Drive


Both the Porsche Mobile and Desktop Drives, like all Porsche drives, feature all-aluminum enclosures with rounded corners, polished beveled edges, and a sandblast finish.
"We are excited to continue our collaboration with Porsche Design Group, one of the most well respected sports and luxury-lifestyle groups," said Lance Ohara, Senior Director of Product Lifecycle Management for LaCie. "With the LaCie Porsche Design Drives, we are bringing the latest USB-C technology to our customers with a product that is superior in both form and function."
LaCie plans to begin selling its updated Porsche Design Drives in March of 2016. The LaCie Porsche Design Mobile Drive will be available in 1TB, 2TB, and 4TB capacities with prices that start at $109.95.

LaCie Porsche Design Mobile Drive


The LaCie Porsche Design Desktop Drive will be available in 4TB, 5TB, and 8TB capacities, at prices that start at $209.95.