ASUS Announces First Portable 15.6-Inch USB-C Display
ASUS today announced the first single-cable USB display that comes equipped with a USB Type-C port, allowing it to work with Apple's Retina MacBook and other USB-C machines. The MB196C+ portable display includes a 15.6-inch screen with a 1080p resolution.
The new monitor is the successor to the USB-powered ASUS' MB168B+, which came out two years ago. It features the same metallic finish and two-way adjustable stand, but according to Engadget, the display panel in the new model has been upgraded to IPS for improved colors and viewing angles.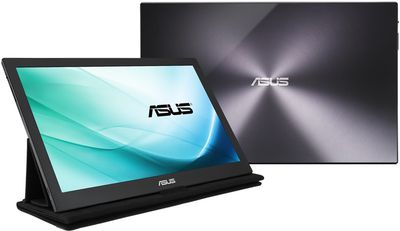 With the monitor's single USB-C cable, a Retina MacBook can power the display without the need for a second power cord. ASUS' MB169C+ is just 8.5mm thick and it weighs approximately 1.8 pounds, making it a good companion monitor for the ultra thin Retina MacBook.
ASUS hasn't shared details on availability or pricing, but its retail cost may be similar to the prior MB168B+, which retails for $200 to $300.