Apple to Sell Exclusive Apple Watch Sport Models for Chinese New Year
Apple has announced that it will release two exclusive Apple Watch Sport models to celebrate the Chinese New Year on February 8. The special models will be available in China, Hong Kong, Malaysia, Singapore and Taiwan until February 22.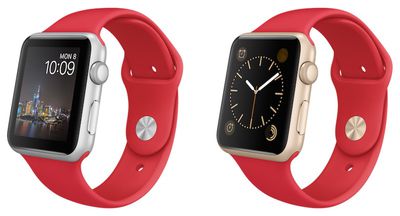 The exclusive models and their prices have not yet appeared on the Apple Online Store. Apple Watch Sport is currently offered in 12 models, including new anodized gold finishes and band colors announced in September.
Update (8:20 a.m. PT): Mashable reports the exclusive Apple Watch Sport models will be available between January 15 and February 22 in yellow gold aluminium and silver aluminium with (PRODUCT)RED sport bands.
Update (9:10 a.m. PT): The limited edition 38mm and 42mm Apple Watch Sport models are now available on the Apple Online Store for between $518 and $598 in Singapore. Prices vary in other countries.