Apple Confirms 12-Inch MacBook Shown on '60 Minutes' as Fake 'iPhone 7' Video Surfaces
Apple has confirmed to Tech Insider that the notebook pictured behind Apple general counsel Bruce Sewell during the 60 Minutes special Inside Apple is the 12-inch MacBook released in April, debunking some users on Reddit and social media who speculated the notebook could be an ultra-thin MacBook Pro.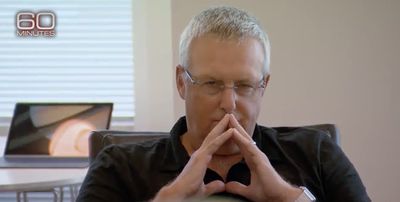 12-inch MacBook pictured behind Apple general counsel Bruce Sewell (Image: CBS)
The chances of Apple leaving an unreleased MacBook in plain sight for a national TV program were slim to begin with, especially in a room full of Apple's top executives. In a later segment, Apple even covered desks in its secretive design studio so that cameras could not capture what the company is working on next.
The rumor mill is also abuzz after a fake "iPhone 7" leaked video circulated on social media this week. The sketchy video, spotted by French website Nowhereelse.fr, falsely depicts an alleged Foxconn employee handling a purported next-generation iPhone prototype that seemingly lacks a home button.
The staged video from "ViralVideoLab" shows a metallic device with an Apple logo, but it is noticeably thicker than the iPhone 6s and includes regulatory markings that are questionable for such an early prototype. The prototype more closely resembles an HTC One M9 with thin bezels along the top and bottom of the screen.
Foxconn has been the source of iPhone leaks in the past, including the iPhone 6 rear shell and dimensions, but it is unlikely Apple has provided the supplier with an assembled "iPhone 7" prototype over nine months ahead of its expected release. No other physical components for the next-generation iPhone have leaked to date.