For procrastinators and last minute shoppers, Apple is planning to offer free next day delivery on December 23rd, ensuring Apple products and accessories will arrive in time for the upcoming Christmas holiday. According to Apple's website, customers who place an order for an in-stock item by 2:00 p.m. on 12/23 will be eligible for free next day delivery.
In-store pickup orders made two hours before closing on 12/24 will also be available in any Apple retail location. Holiday hours for each retail store are available using Apple's store locator tool.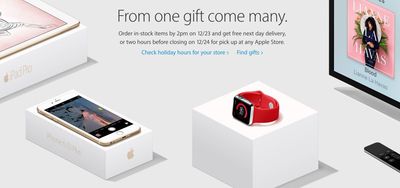 Apple already offers free next day shipping on the iPhone, but other products like iPads, Apple Watches, Macs, and accessories are delivered using two day shipping. Products ordered ahead of 12/23 will deliver on time using the standard two day shipping that Apple provides.
As a reminder, Apple's annual extended return policy is now in effect on the Apple Online Store and in retail locations in the United States, Canada, and many other countries. Most products and accessories purchased between November 1 and December 25 are eligible for return until January 8, 2016, extending the typical 14-day return policy. In some European countries, return dates are extended until January 20, 2016.