Apple Releases Lightning to SD Camera Reader With USB 3.0 Speeds on iPad Pro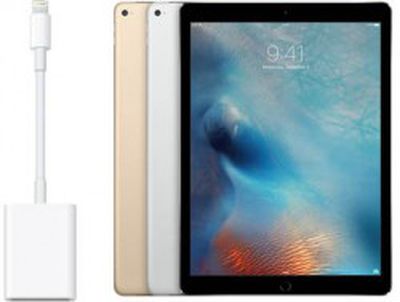 Apple has released a new Lightning to SD Card Camera Reader with support for up to USB 3.0 speeds on iPad Pro, and USB 2.0 speeds on all other iPad and iPhone models, as spotted by iDownloadBlog. The dongle retails for $29 on the Apple Online Store in the U.S. and is available to ship for delivery within approximately one week.
Last month, it was discovered that the iPad Pro's Lightning port supports USB 3.0 transfer speeds, allowing for data transfer speeds upwards of 60MB/s to a theoretical max of 625MB/s. All other iPads and iPhones can only transfer data at USB 2.0 speeds of around 25 to 35MB/s, since only the iPad Pro has the necessary hardware -- a Fresco Logic FL1100 4-port USB 3.0 Host Controller.
Apple has not updated its Lightning to USB Camera Adapter or other accessories to support the iPad Pro's USB 3.0 speeds, but multiple sources have previously confirmed that adapters are in the works. It remains unclear, however, if Apple plans on introducing new Lightning cables that will enable USB 3.0 speeds when transferring files from a computer to an iPad Pro.
Apple's new Lightning to SD Card Camera Reader is also available for £25 in the U.K. and $35 in Canada. Prices vary in other countries.