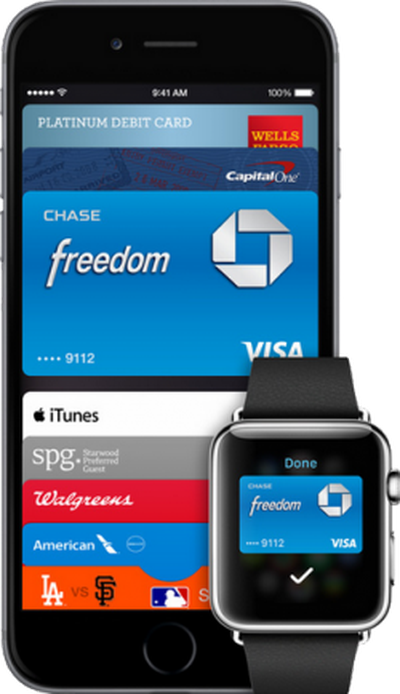 Apple has updated its Apple Pay participating issuers list with 40 additional banks, credit unions and financial institutions supporting the contactless payment service in the United States. Apple Pay now has nearly 800 participating issuers nationwide, and several more plan to support the NFC-based mobile payment service in the future.
The newly added Apple Pay participating issuers are reflected below, although it's worth noting that some banks, credit unions and financial institutions listed may have already had support for the contactless payments service and are only now being reflected on Apple's website.
The full list of new Apple Pay participating issuers:
American Heritage Federal Credit Union

Associated Credit Union

Bangor Savings Bank

Bank of Bourbonnais

Bank of Clovis

Bank of the Pacific

Baton Rouge Telco Federal Credit Union

BHCU

Cardinal Bank

Corning Credit Union

First Financial Credit Union (IL)

First National Bank of Trenton

First Nations Bank

First Republic Bank

Flint Area School Employees Credit Union

Glass City Federal Credit Union

Guaranty Bank and Trust Company

Hawthorn Bank

Hills Bank and Trust Company

Hudson Valley Federal Credit Union

Leader Bank, N.A.

Michigan Tech Employees Federal Credit Union

Midcoast Federal Credit Union

Oatworth Capital Bank

Ohio Valley Bank

Partnership Financial Credit Union

Penn Liberty Bank

Police and Fire Federal Credit Union

Prime Merdian Bank

Reading Cooperative Bank

Republic Bank

Section 705 Federal Credit Union

Secured Advantage Federal Credit Union

Southern Bank

Southwest Missouri Bank

TowneBank

West Plains Bank and Trust Company

WesTex Federal Credit Union

Wilmington Savings Fund Society

WSFS Bank
Apple is committed to an international expansion of Apple Pay, having launched the mobile payments service in Australia and Canada last month in partnership with American Express. Apple Pay is also coming to Hong Kong, Singapore and Spain in 2016, and is rumored to launch in China by February 2016.
On the merchant side, Cinnabon, Chili's, Domino's, KFC and Starbucks will support Apple Pay in the U.S. starting in 2016.