Apple's Top Free Charts Incorrectly Ranking Apple Apps on Some iOS Devices
Apple's Top Free Charts on some iOS devices appear to be incorrectly ranking Apple apps like iMovie, Pages, Keynote, and Numbers. As discovered by Sensor Tower and shared by TechCrunch, on some iOS devices, the App Store's Top Free Chart lists Pages, Numbers, and Keynote at higher ranks than on the desktop App Store and on other iOS devices.
For example, on an iPad mini 2 and an iPhone 5s, we found iMovie, Keynote, Pages, and Numbers all listed within the top 10 free apps, all at different positions. On an iPhone 6 Plus, iPhone 6s Plus, iPad Air 2, and iPad Pro, the only Apple app in the top 20 free apps is iTunes U, which also matches up with the desktop version of the App Store. iTunes U, according to Sensor Tower's data, is the only app along with GarageBand that should be listed in the top 10 of the free chart.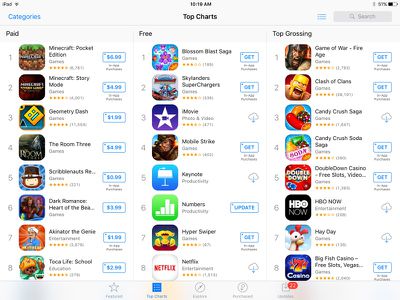 App Store Top Free Charts on iPad mini


While MacRumors did not see the errant chart behavior on more recent devices, both TechCrunch and Sensor Tower have seen problematic ranking numbers on a range of different devices running iOS 9.1. Devices running iOS 8.3 did not seem to be affected by the problem.

App Store Top Free Charts on iPhone 6s Plus


As TechCrunch points out, it's not clear if the discrepancy between App Store Top Chart listings is a bug or an intentional manipulation by Apple, but given the significantly different results from device to device, even those that are the same generation, it seems more like a bug than something done deliberately.
The discrepancy, of course, could be related to a bug in Apple's App Store ranking algorithm, but it's a persistent one if that's the case.

It doesn't appear to be impacting the relative rankings of most other Top applications, besides Apple's. That is, Facebook Messenger is still at the top of the App Store, followed by newcomer Acapella from PicPlayPost, then YouTube, and then Facebook.
Apps like Pages, Keynote, Numbers, and iMovie are listed in the Top Free Charts because they are provided to iOS users at no cost with the purchase of an iOS device, but these apps are not free, an issue that could potentially be causing chart problems. All of the above listed apps sell for $4.99 to $9.99.
Apple has, however, manipulated the App Store results in the past to highlight its own apps, so it could be the result of a direct work to promote its line of iWork apps to specific devices or specific users, but without comment from Apple, it's difficult to tell.