Apple Improves App Store Search Algorithms
Apple appears to have made some significant improvements to the way App Store searches work in recent weeks, returning more relevant, intelligent results whenever a keyword search for an app is conducted, reports TechCrunch.
Several developers, including Tapbots' Paul Haddad and Contrast's David Barnard began noticing changes to App Store search results starting in early November, with a major algorithm update occurring on November 12.
App rankings for search results now appear to take into account factors that go beyond simple keyword listings, like partial keyword matches and competitor brand names, somewhat de-emphasizing the keywords that developers enter manually. As an example, a search for "Twitter" now brings up relevant apps like Tweetbot, something that didn't happen before the shift.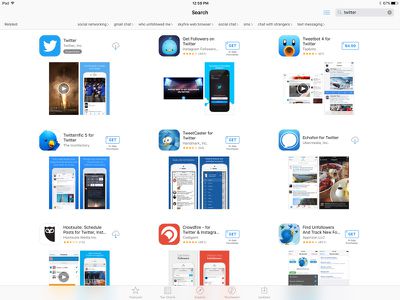 It's also the first time the App Store has ranked apps for keywords that are not in the title or the "keyword," slot, we understand.

For developers searching against their own app name, what this change means is that they'll now see a number of competing apps that didn't show up before, and an overall expanded list of matches.
AppFigures CEO Ariel Michaeli told TechCrunch the App Store uses a new suggestion function that takes into account the "essence of the app" and puts more emphasis on on-page components.
Apple is constantly making changes to the way apps come up in charts and through search, in an effort to improve app discovery. The recent search algorithm changes appear to be bringing up much more useful results, but as TechCrunch points out, Apple could make further improvements by utilizing metrics like whether an app was featured, positive reviews and press mentions from the web, and its overall usage.