Apple yesterday quietly removed all mentions of PayPal Credit from its U.S. Online Store, signaling its decision to stop allowing customers to use PayPal Credit payment plans for purchases in the United States.
On the financing section of its website, where customers can get information about their payment options, Apple is now only offering financing through Barclaycard Visa, which allows users to make payments over 6 to 18 months depending on purchase price.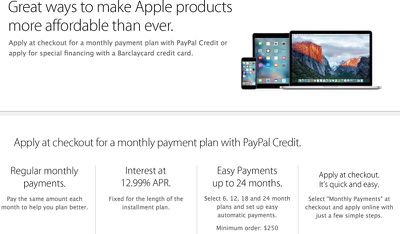 Previous PayPal Credit options, which are no longer available.
The previous PayPal Credit option allowed customers to choose 6, 12, 18, or 24 month payment plans with a fixed APR of 12.99%, while the Barclaycard Visa maxes out at 18 months with an APR of 13.99%, 19.99% or 26.99% depending on credit.
Apple is continuing to offer rewards to customers who buy with the Barclaycard Visa, with customers earning 3 points for every $1 spent at the Apple Store, 2 points for every $1 spent at restaurants, and 1 point on all other purchases. 2,500 points can be redeemed for Apple Store or iTunes gift cards.
Apple first began promoting PayPay Credit payment methods in December of 2014, which is when the company also began allowing customers to buy items using PayPal as a payment method. While Apple is no longer allowing customers to use PayPal Credit options to make purchases, it does still accept PayPal payments for purchases made from its online store and from its iOS app.
PayPal Credit is still available in the U.K., and it is not clear if Apple plans to drop support in other countries as well.