tvOS 9.0 Code Hints at iOS-Like Folder Support for New Apple TV [Updated]
Developer Steve Troughton-Smith has explored the code and found that HeadBoard, tvOS' UI, includes support for folders. Yesterday, Apple seeded the first beta of tvOS 9.1 to developers, the first software update to tvOS 9.0.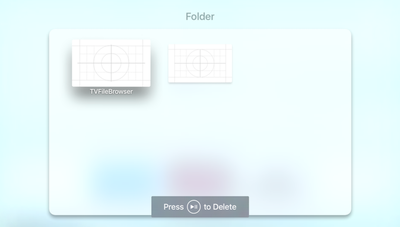 Image

via

Steve Troughton-Smith


Folders on tvOS currently work in a similar way to iOS, notes Troughton-Smith. A user would just have to drag one app over the other to create a folder. Users would also have the ability to rename folders. Troughton-Smith was able to activate the folders using the LLDB software debugger. The folders appear to use a 3 x 3 layout and sit alongside apps on the Apple TV's home screen, just like folders do in iOS.
In recent days, Apple has been updating the Apple TV's new App Store with
Top Charts
and
Categories
for better discoverability. However, those updates were server-side updates that didn't require users to update their software. Folder support would require a software update, but it's unclear which software update Apple would enable it in. Last year, iOS 8 code
pointed
to split-screen multitasking, but the feature didn't become official until iOS 9 almost a year alter.
Correction: An earlier version of this story wrongly indicated that Steve Troughton-Smith had found the code for tvOS folders in tvOS 9.1. He found the code in the public, released tvOS 9.0.