EmojiWorks is today debuting the first hardware-based emoji keyboard, which is designed to make it easier for users to quickly type their favorite emoji using built-in shortcut keys. The keyboard looks like a standard Apple-style keyboard, but it includes emoji symbols.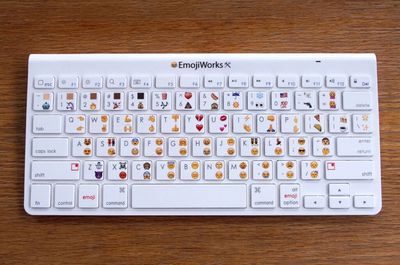 Each key on the Emoji Keyboard from EmojiWorks includes an emoji in addition to a letter, which can be inserted by pressing a dedicated emoji key along with the key that houses the desired emoji. The keyboard features many popular emoji like the poop, thumbs up, unicorn head, taco, heart, and a series of faces.


According to EmojiWorks, typing emoji with the keyboard is up to 10 times faster than the standard emoji typing method. The Bluetooth-enabled keyboard is able to work with both Macs and iOS devices. Because the emoji shortcuts are pre-programmed and the emoji pre-printed on the keyboard, the emoji keyboard is not customizable. Some favorite emoji may be missing, so while you can ask a co-worker to get tacos for lunch, you're out of luck if you want burritos.
There are three separate emoji keyboard models available: the Emoji Keyboard ($79.95), the Emoji Keyboard Plus ($89.95), and the Emoji Keyboard Pro ($99.95). While the hardware is the same in all three, the number of emoji shortcuts differs. The cheapest Emoji Keyboard offers one emoji per key, for a total of 47 emoji. The Emoji Keyboard Plus includes 94 emoji, and the Emoji Keyboard Pro includes more than 120 emoji, with three shortcuts per key.


Each version of the Emoji Keyboard can be pre-ordered from the EmojiWorks website starting today.