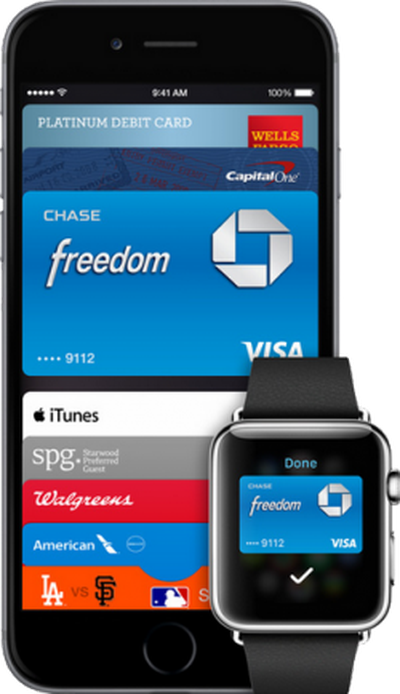 Apple updated its Apple Pay participating issuers list today with 54 additional banks, credit unions and financial institutions supporting the contactless payment service in the United States. Apple Pay now has over 650 participating issuers nationwide, and several more plan to support the NFC-based mobile payment service in the future.
The newly added Apple Pay participating issuers are reflected below, although it's worth noting that some banks, credit unions and financial institutions listed may have already had support for the contactless payments service and are only now being reflected on Apple's website.
The full list of new Apple Pay participating issuers:
Alternatives Federal Credit Union

Army Aviation Center Federal Credit Union

Artisans' Bank

Bank of Eastman

Bank of Rantoul

Bridgeview Bank Group

Carson Bank

Calumet Bank

Catholic & Community Credit Union

Central State Bank

Charter Oak Federal Credit Union

Citizens First Bank

Cornerstone Bank

Cornerstone National Bank

Credit Union of America

Drummond Community Bank

Education Employees Credit Union

First Community Credit Union (MO)

First Federal Bank of the Midwest

First Piedmont Federal Savings and Loan Association

Genisys Credit Union

German American

Gorham Savings Bank

Greenwood Credit Union

Houston Texas Fire Fighters Federal Credit Union

Hudson River Community Credit Union

InTouch Credit Union

KV Federal Credit Union

Lexington Postal Credit Union

Macatawa Bank

Maine Family Federal Credit Union

Marion State Bank

Missouri Bank

Missouri Credit Union

Mocse Credit Union

Municipal Employees Credit Union of Oklahoma City

Mutual Bank

Newaygo County Service Employees Credit Union

Oak Trust Credit Union

Peoples Bank (WA)

Peoples Bank (AR)

Polish & Slavic Federal Credit Union

PyraMax Bank

Settlers Federal Credit Union

The Bank

The Provident Bank

Tri City National Bank

TwinStar Credit Union

UMassFive College Federal Credit Union

United Equity Credit Union

United Savings Credit Union

University of Kentucky Federal Credit Union

Upper Peninsula State Bank

Weokie Credit Union
Apple Pay remains limited to the United States and United Kingdom, although Apple is committed to an international rollout of the mobile payments service in additional countries such as Australia and Canada in the future.
WSJ reported that Apple is planning a November launch of Apple Pay in Canada. Apple Pay will also be available to eligible American Express customers in Canada and Australia later this year, in addition to Spain, Singapore and Hong Kong in 2016.