The Video Electronics Standards Association (VESA) yesterday announced that it has officially published the Embedded DisplayPort (eDP) Standard version 1.4b, which brings the previous 1.4a iteration into the final stages of production-ready status for future notebook and all-in-one desktop displays. This final revision of the eDP 1.4 standard includes a few "key protocol refinements and clarifications" to ensure ease-of-integration for partners supporting it and an overall lower bill of materials costs to its implementation.
The eDP 1.4 standard was announced two years ago, with an improved eDP 1.4a standard arriving earlier this year setting the stage for future 8K support on notebooks and all-in-one desktop computers.
The association promises that GPUs and CPUs that run the DisplayPort 1.3 standard for external display connectivity with 5K support will also be able to eDP 1.4b for internal uses. DisplayPort 1.3 support is, however, still only in the early stages, with Intel's latest Skylake chips not including it.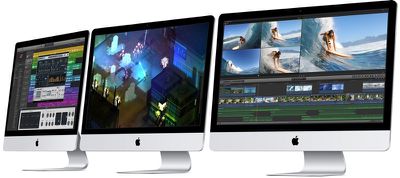 According to Bill Lempesis, executive director at VESA, "Since its introduction in 2008, eDP has become a central system element within the mobile computing market space. The standard has continued to retain its lead in display performance, supporting embedded panels with resolutions as high as 8K. We look forward to seeing systems incorporating the finalized standard come to fruition next year, broadening the number of consumers receiving clear, crisp visual information delivered by eDP 1.4 on their laptops, tablets, all-in-one PCs and possibly even smart phones."
Apple's current 27-inch Retina iMac line-up uses its 5K Retina display to come in at 5120 x 2880 pixels, while the new eDP 1.4b standard could introduce an 8K monitor with a 7680 x 4320 display. The catch with the possibility of 8K is that it's still far from being widely supported, with only a select few high-end television sets backing the ultra high-def standard. Apple itself just launched a new line of 4K 21-inch and 5K 27-inch iMacs, so 8K support from the Cupertino company is still a ways off as well.
VESA notes that while it positions eDP 1.4b as the standard for the future, current machines are just beginning to integrate with eDP 1.3 and even earlier. Still, the association predicts a mid-2016 incorporation for the first system displays with 8K support, "and the final standard should continue to increase in adoption and be used in production for several years."